Spirio Spotlight
April 2016
musical Highlights From The Spirio Catalog
Dance has forever been inexorably linked to music. This month, Steinway & Sons Spirio, the world's finest high resolution player piano, dances its way through many genres — from the Baroque to ballet to mambo to tango to Latin and back to Romantic–Classical — in a journey that will leave you reeling in excitement!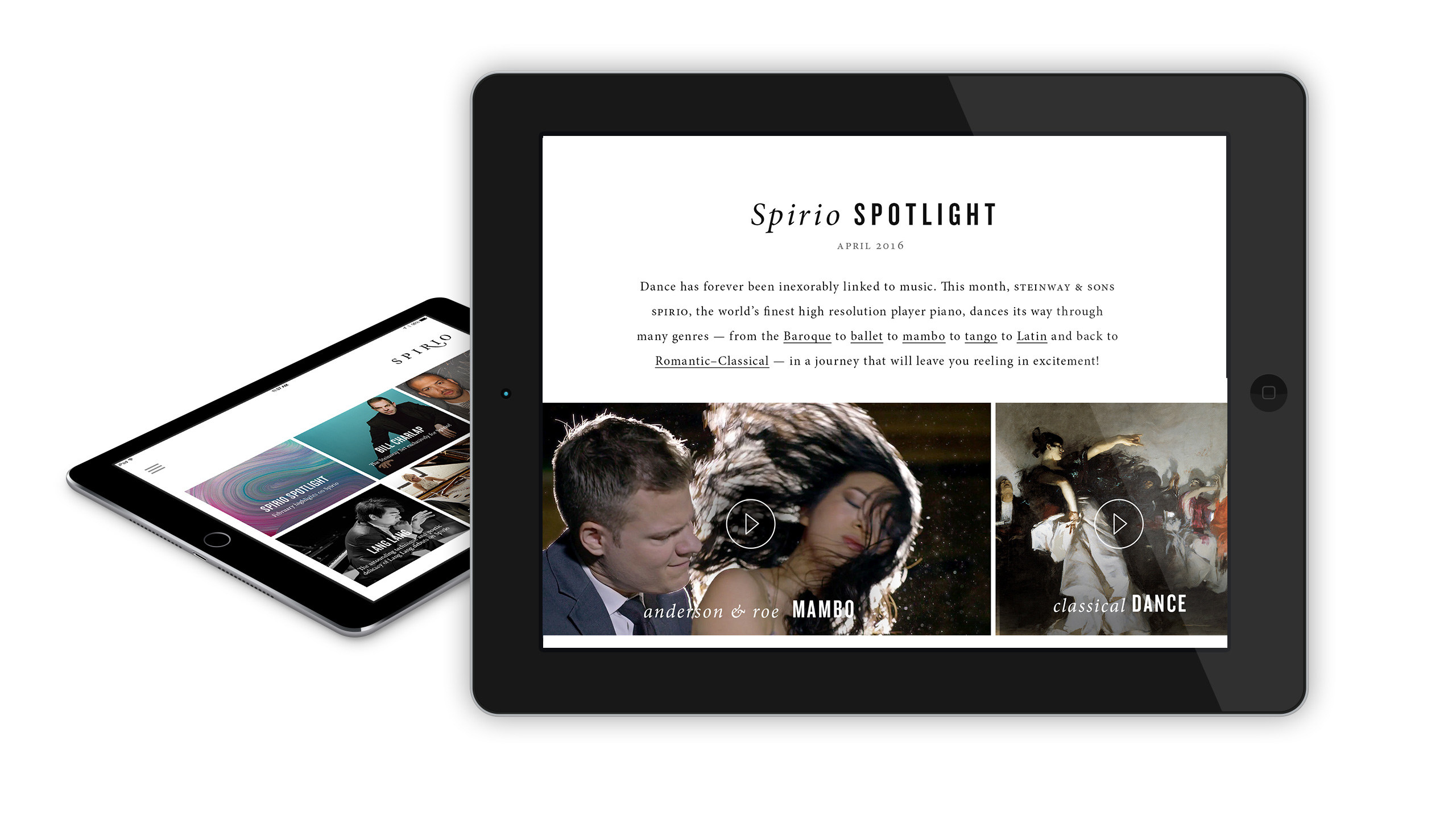 Known for their adrenalized performances, Steinway Artists Greg Anderson and Elizabeth Joy Roe are revolutionizing the piano duo experience for the 21st century. Here, Anderson & Roe mambo up and down the Steinway in a Spiriosync video that plays on your piano while you watch on your iPad. Watch the video online even if you don't have a Spirio.
What's New On
Spirio
Many of the latest Spirio tracks fit the Dance theme, including Manuel de Falla's ballet El Amor Brujo, performed by Vanessa Perez, who also performs Falla's rarely recorded Fantasía bética. Alexandre Moutouzkine joins the Spirio roster this month with a program of danceable Cuban works, old and new, never before recorded. Gustavo Casenave debuts on Spirio with Tango–inspired tracks. Liszt's Totentanz (or Dance of Death) is a dazzling showcase that marks the Spirio debut of the exceptionally talented Hungarian pianist Gábor Farkas.

German–Russian pianist Olga Scheps joins Spirio with special works, including the wild Volodos arrangement of Mozart's Turkish Rondo. Other new Spirio artists include Chinese pianist Jiaxin Tian and Jazz pianist and composer Earl Rose, whose new set is eminently listenable for lovers of the American Songbook but also embraces the pop music of Coldplay and Antonio Carlos Jobim. Finally, Jenny Lin and Tania Tachkova give us the beloved Mother Goose Suite by Ravel in his four-hand version, along with another dance tune, Gavrilin's Tarantella.
This month, Spirio takes you from Baroque to ballet...

The new Steinway & Sons Spirio is the world's finest high resolution player piano. A masterpiece of artistry and engineering in your home, Spirio enables you to enjoy performances captured by great pianists — played with such nuance, power and passion that it is utterly indistinguishable from a live performance. Learn more about spirio.

Connect with us below to experience Spirio in person.