Spirio Spotlight
June 2016
musical Highlights From The Spirio Catalog
We shine the spotlight on virtuoso Yuja Wang this month. Wang offers some sensational Russian encores, including a powerful Prokofiev Toccata and a graceful Vocalise by Rachmaninov. Her signature how-does-she-do-that style is on display in Schumann's Der Kontrabandiste (The Smuggler). And just when you think she can't top that, she delivers a jaw-dropping Turkish March by Mozart, which is a combined arrangement by Fasil Say and Arcadi Volodos.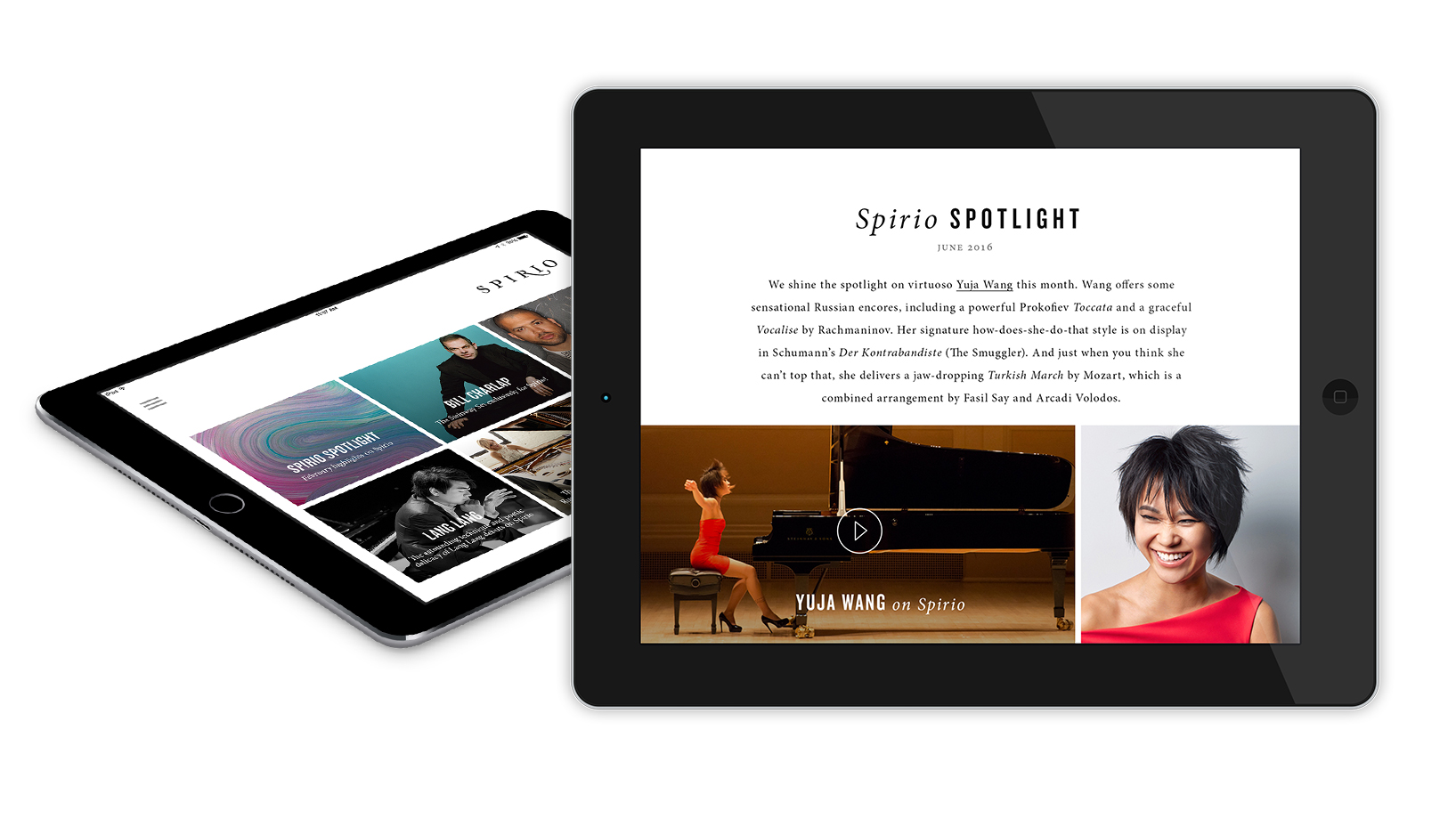 What's New
The great Argentine composer and jazz pianist Pablo Ziegler debuts on Spirio this month. A pioneer of Nuevo Tango, Pablo was Astor Piazzolla's pianist and music director for many years and is known for bridging the artistry of classical and jazz virtuosity. Classically trained Chinese pop music superstar Li Quan also debuts this month with some of his best-known works that he has arranged for solo piano.

Spencer Myer plays some of the best contemporary ragtime music with two rags by William Bolcom, and the ZOFO Duet performs another contemporary rag, the snappy four-hand Praying Mantis Rag by Terry Riley. ZOFO leads a group of four-hand pieces this month, also performing Riley's haunting G-Song. More four-hand works include the ever-popular Dolly Suite by Gabriel Fauré from Jenny Lin and Tania Tachkova, and a crisply delivered Mozart Sonata from the Lomazov Rackers Piano Duo. We also have new arrangements of pop music by The Beatles, Leonard Cohen, Roberta Flack and The Young Rascals.
New Feature Artist Videos!
This month we launch a brand new feature on Steinway Spirio that combines the visual performance of the artist captured on video with the live acoustic performance on Spirio. Every month we will bring you a new featured video. In addition to the dynamic new recording of Yuja Wang above, this month we also offer a mesmerizing video of Thelonious Monk performing Monk's Mood, which we have re-created from a historic 1969 studio session in Paris. Watch on your iPad while Spirio plays.
 
Explore The Music
Each month we features highlights from the Spirio catalog. Learn more about the artists, the history and the music found exclusively on Spirio.

The new Steinway & Sons Spirio is the world's finest high resolution player piano. A masterpiece of artistry and engineering in your home, Spirio enables you to enjoy performances captured by great pianists — played with such nuance, power and passion that it is utterly indistinguishable from a live performance. Learn more about spirio.

Connect with us below to experience Spirio in person.