Spirio Spotlight
July 2016
musical Highlights From The Spirio Catalog
This month our spotlight shines on the world of pop. Chart-toppers from Coldplay, Sting, U2, Beyoncé, Adele and Katy Perry have had staying power because their bulletproof tunes offer so many different listeners so many ways in — including these tastefully performed solo piano renditions of their music.
Simon Mulligan and Earl Rose offer takes of Coldplay, Robert Glasper plays Radiohead and Nirvana, Christopher O'Riley gives us Joni Mitchell and Elliott Smith, David Benoit plays Billy Joel, Ramsey Lewis plays The Beatles, and much more is new this month.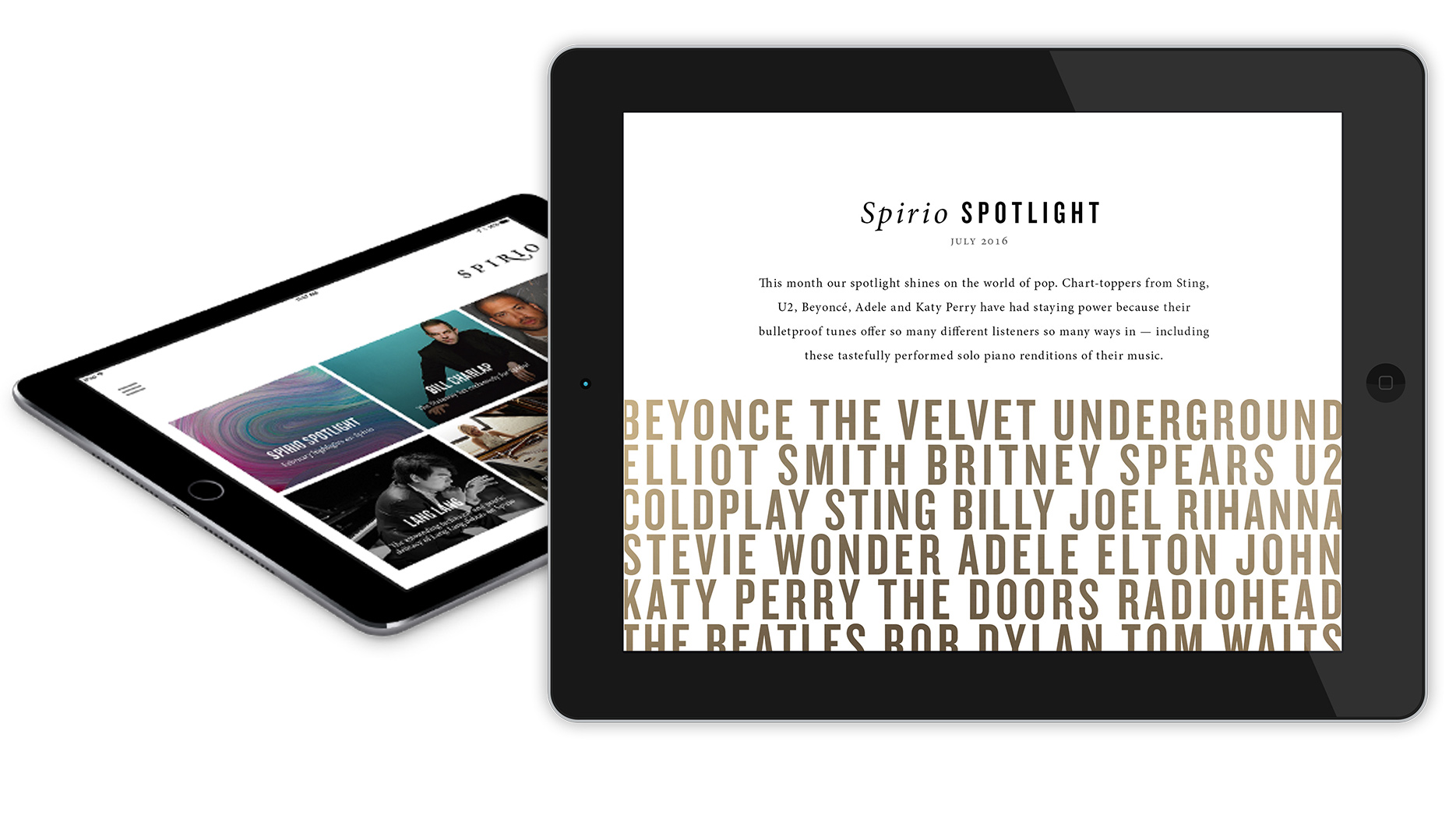 What's New
The famed Carlyle Hotel in New York is the place to hear some of the best music in town and that's where you'll hear Earl Rose every Monday night. Or you can hear him in your home, now on spirio. Along with his classic American Songbook selections, he also contributes to this month's pop music theme with tracks by Adele, Skylar Grey and Radiohead.
Jean-François Maljean, known for his stylish new-age playing, is also a fine jazz pianist. But his debut on spirio this month is pop music, featuring songs by Sting, Simon & Garfunkel and Kitaro. More pop comes from Sunny Choi, whose latest tracks are by Beyoncé, Major Lazer and John Legend; Jed Distler plays Cat Stevens and Roberta Flack, and Simon Mulligan plays U2, Alicia Keys and Rihanna.
In other genres, we are thrilled to present Cuban Jazz pianist Elio Villafranca this month. He plays "El Manisero" ("The Peanut Vendor"), a classic Cuban song, and his own original, "Dear Evans."
We have new classical pianists this month, including Warren Lee who performs Percy Grainger's delightful "short" versions of the Grieg and Tchaikovsky piano concertos, and Alvin Zhu playing Samuel Barber's Excursions. Sandro Russo returns this month, completing a set of Earl Wild's arrangements of Rachmaninov songs, and just in time for Bastille Day, Yoonie Han plays Liszt's dynamic version of La Marseillaise.
Explore The Music
Each month we features highlights from the Spirio catalog. Learn more about the artists, the history and the music found exclusively on Spirio.

The new Steinway & Sons Spirio is the world's finest high resolution player piano. A masterpiece of artistry and engineering in your home, Spirio enables you to enjoy performances captured by great pianists — played with such nuance, power and passion that it is utterly indistinguishable from a live performance. Learn more about spirio.

Connect with us below to experience Spirio in person.